Power lines are a structure used to distribute and transmit electrical energy across a large space.
Power lines will usually have one or more cables that are uninsulated electric cables, these will be suspended high up by poles.
Some people worry that living by power lines is dangerous, but there have been no known health risks, although scientists are not 100% sure that it is completely risk-free due to the high voltage power lines.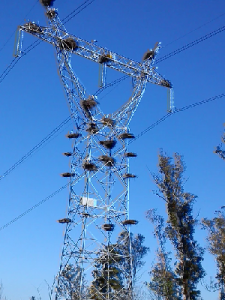 The typical voltages for a power line are in the range of approximately 155,000 to 765,000 volts. The usual distance for maximum transmission is 300 miles.
Most power lines you see will have three wires; this is because it is more economical than a two-wire power line. A three-wire power line will use less conductor material to transmit power.
If you have bought land next to a power line, you must leave at least 15 feet to build any structure underneath or next to it.
If you see a big power line, these are called a power tower or transmission tower, or some people call them electricity pylons, they are the tall metal structures you can see from quite a distance away.
People often wonder why birds can sit on these power lines without getting electrocuted, the reason they do not get electric shocks is they are not touching anything on the ground, so the electricity cannot get around so will stay in the power line.
When you walk past a power line, you can sometimes hear the buzz of the electricity, this is normal and is usually caused by stray magnetic fields and magnetostriction. Also, with power lines the buzz you are hearing could be the corona discharge, this happens when there is the air surrounding the power line, making the electricity jump through it.